Insurance professionals have a difficult job in managing claims. They must provide timely customer feedback while also taking care of their workload. But what if you don't have all the necessary tools when the next catastrophe hits? One of the best ways to stay ahead is using new tools that an insurtech like 
Wilbur
 offers, in particular Virtual Inspections.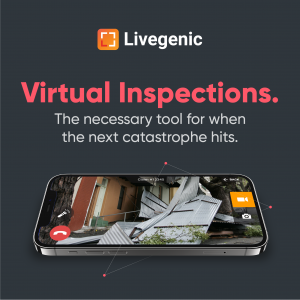 What are Virtual Inspections? 
Virtual Inspections require a virtual collaboration platform that connects you to your customers and field staff for faster and more accurate inspections with video streaming, real-time assignment management, online payments, and much more.
Virtual Inspections enable insurers to secure inspections and damage assessments without the risk, cost, and time associated with deploying traditional field adjusting resources during and before the COVID-19 crisis.
Why are virtual inspections important for Catastrophe events?
Virtual assessing and inspections provide a tremendous benefit when disaster strikes. Waiting days to inspect a claim physically can exacerbate existing damages – the ability to remotely triage the severity of the loss and make an informed decision on how to proceed can save you thousands of dollars in claim costs.
Virtual inspections cut out the travel time and free up assessors to complete more assessments in a much quicker timeframe. While also protecting all stakeholders by avoiding physical attendance, especially in the current COVID-19 environment. Virtual inspections can be integrated into your workflow to ensure claims are moving swiftly from day one if assessors cannot physically get to the damaged area.
How do virtual inspections help with claim management?
Virtual inspections help with claims management through the ability to scale and augment your staff during busy times (catastrophe events). In addition, live assessments create excellent outcomes by expanding your existing coverage, reducing claim lifecycles, reducing average claims costs, and granting the ability to provide superior customer experience with real-time interaction and engagement.
The use of virtual inspections is one way that our clients strive to improve their claims management process. We've found through experience and research that this method can be extremely helpful in many situations, including catastrophe events where there can be significantly high volumes of incoming calls from customers with complicated questions about coverage terms or who need help navigating their claim. But don't just take our word for it.
Interested in our live assessment technology? Get in touch to explore how we can help you prepare before the next catastrophe event hits.
Click here to get in touch with a Wilbur Professional.
MEDIA ENQUIRIES
William Mayo
NEWSLETTER SIGN UP
Receive our claims industry research report and occasional newsletters.